Casey shares her daughter's 4th Birthday Tea Party… 

I started planning for my daughter's party at the start of February – the party was on 24 April, so I had almost three months to get everything I needed.
Disclosure: This post contains an affiliate link, and at no additional cost to you, I'll earn a small commission if you decide to purchase after clicking through the link. I'll only ever recommend things that I love and believe will help you, and the decision to purchase is entirely yours!
PICKING A THEME
There were so many themes around, it was hard to choose, but by searching and browsing through Pinterest (my favourite browsing site) and on a party Facebook page, I thought a high tea party would be ideal for my daughter, as she loves having little tea parties in her bedroom with her toys.
TEA PARTY DECOR
I kept checking out my local op shops and antique shops each week for anything like tea pots, tea sets and anything to do with Tea Parties. Thankfully, I was lucky enough to find a gold tea set and a floral tea set along my travels and they didn't set me back much at all. I also kept going to the Reject Shop to see what kind of things they had. In my travels I found a pink, white and lavender tin that I made into my vases, little silver spoons (plastic), adorable little love heart napkins, pink and gold straws, plastic love heart tablecloth that I used as a backdrop for the food table and a glass drink dispenser.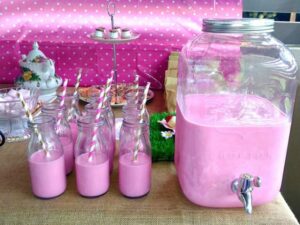 I purchased a number of things online and found that saved me quite a bit of money. First, I got two grass flower mats, which I placed food on, and  I also got some white, light purple and light pink paper doilies. I came across some favours for the girls and bought some ribbon wands and flower crowns, which were a hit with the little ones and something they could keep for a long time. The other plastic drink dispenser I got was from Aldi and so were the cake stands and serving plates, and the glass milk bottles were from Big W.
Tea Party Cake
I made my own cake, because about a month earlier I started doing cake making. It was a white mud cake with the colours light purple, pink and white inside (unfortunately I didn't get a photo of the inside), and on the outer of the cake it was lavender buttercream. The deer and the little flowers were from Aliexpress. The bunting was from Paper Love Cards.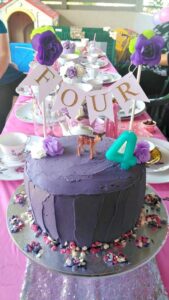 Tea Party Set Up
I found the hardest part to plan was the food and drinks that would be suitable for a little girl's tea party. The easiest part was buying all the items. I didn't struggle with finding anything, and because I gave myself a few months But I didn't buy them all at once so it didn't end up being a fortune all in one go. My favourite part of the day was setting it all up, although I was rushed because the rain set me back a bit. I was running around here and there trying to make everything look ok because it wasn't my original plan.
The party was planned to be an outside party under a nice big Jacaranda tree with a picnic theme (the plan was to have them sitting on cushions at a little table close to the ground) with decorations hanging from the tree. But the weather had other ideas so we had to take it undercover, which still turned out nice, but I didn't think ahead and the chairs were plastic and not the nicest for the theme.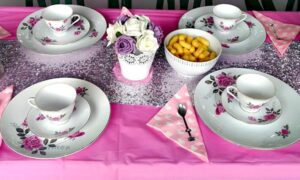 Tea Party Food
Everything else went to plan. The decorations worked well, the kids had a ball and the food was a hit and easy to make. We had white chocolate and chocolate dipped strawberries, heart-shaped fairy bread, marshmallow teacups, iced VoVos, iced round biscuits, pink marshmallows, wafer biscuits dipped in chocolate and sprinkles, little sandwiches, chocolate freckles and mini cupcakes.
For drinks we had strawberry milk (made with strawberry Nesquik with a little bit of red food colouring and then pink lemonade (it was just lemonade with food colouring but it turned out more like red lemonade). We also brought hot food out for the adults and some cocktail frankfurts out for the kids.
Tea Party Games
The rain ended up going away close to the end of the day the kids had fun running around with their ribbon wands. We put some music on and they danced around swirling the ribbons around.
We played Pass the Parcel and had some great little prizes that I got from Kmart (lip gloss, jewellery and little trinkets). We also played Pin the Cup Under the Teapot, which I made myself. I made my own party bags just out of brown paper bags (that you buy in woollies) I added a doily and a little peg for a bit of tea party character.
Need some more tea party inspiration?
Check out these posts below to pull together the perfect tea party:
Need more tips when it comes to planning that next important occasion? Check out our DIY party planning checklist and get started today!